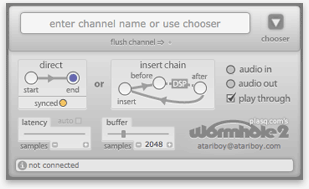 Hey guys.. posting the latest creation I worked on. (did the User Interface)
It has moved from
apulSoft
(Adrian Pflugshaupt) to
plasq
"Wormhole2 is for audio professionals and musicians, allowing routing of audio between machines on a network. Now you can make use of all the processing power in your studio. For example; set aside a machine for complex instruments or effects, route audio out to it, then back into your favorite DAW. Or route audio between your PCs and Macs to get the best of both worlds. Or share audio between laptops on stage. Or or or... there are lots of possibilities!
Wormhole2 is available for Mac VST + Audio Unit and Windows VST."
If you ever tried wormhole 1, definitely give this a go - it is almost an entirely new beast.
http://plasq.com/wormhole
.
hehe, and we did the manual in Comic Life
turned out pretty well though I think.