It was already released end December 2012, but someone mentioned I should also announce it here for those who are into granular weird sounds on Mac, so here it goes: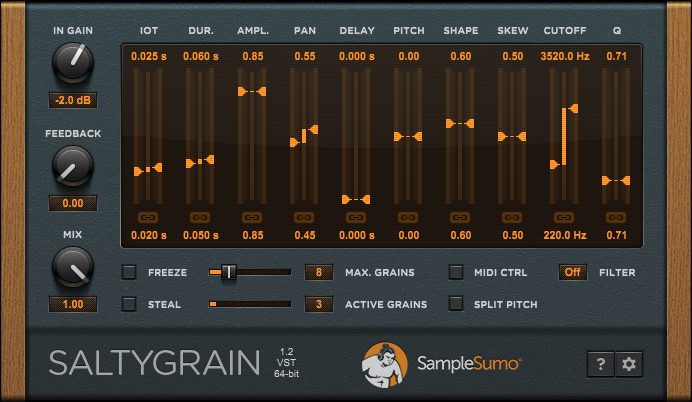 SaltyGrain
is a real-time granular audio effect plugin.
It can create a large variety of different sound types, and is ideal for creating strange or spooky effects in movie productions, vocal effects, weird background sounds, lush pad sounds, rhythmic distortions, live sound modifications, etc...
Incoming sound is fed into a delay line from which small pieces of various durations and at different moments in the past are selected. Each of these pieces is then amplified, transposed and enveloped to form a "grain". Each grain is also randomly panned and the whole mix is sent out to a stereo output stream.
Features
delay line freezing for live sampling and sound modifications
feedback of granulated output back into the delay line for dense and shifting structures
up to max. 40 simultaneous grains
plugin parameters controllable via MIDI
play melodies with captured sound fragments
density control by number of grains and grain duration
additional grain stealing option
grain envelope control
typical granular slow motion effect by freezing and gradually moving through the delay line (forwards and backwards)
Specifications
This plugin is available for the following platforms and formats:
MacOSX (Intel, 10.5 and up): RTAS, VST (32/64 bit), AU (32/64 bit)
Windows (XP SP3 and up, no Windows8): RTAS, VST (32/64 bit)
More info
(inlcuding audio examples and demo version)
http://www.samplesumo.com/product/saltygrain
Greetings,
Koen
PS
Some people who've been around for a while will notice that this is (indeed) a revamped version of my old Smartelectronix plugin. It got a major rewrite, a brand new proper interface, some bug fixes here and there, and it's available in the formats that make sense today (AAX will hopefully follow later this year). The old one is gone as it was long abandoned, and this is the way forward. I am now running a music tech company together with Bram, and we also have other stuff coming up. Check us out here:
http://www.samplesumo.com
and sign up for our newsletter if you want to be kept informed. And please buy the plugin if it can be of use to you and you feel like supporting us