Dear Mac OSX Audio users,
We are happy to announce
Blue Cat's DP Meter Pro 4.0
, a brand new version of our multi-purpose audio levels meter and envelope generation plug-in.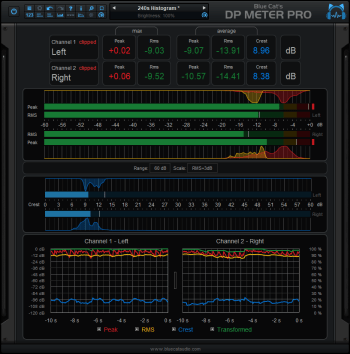 Blue Cat's DP Meter Pro
(DPMP) is a unique audio analysis tool that combines very flexible and customizable audio meters with advanced envelope generation and side chaining control capabilities. This new version comes with a completely redesigned user interface and many new features and enhancements: fully customizable meters, crest factor display, levels histograms for precise dynamic range analysis, surround support, a new presets manager, Windows AAX support, multiple display sizes, new MIDI and automation mapping capabilities, and much more (full list below).
The plug-in is available alone or as part of
Blue Cat's Analysis Pack
, our flagship audio analysis solution. New customers can purchase both the metering plug-in and its associated bundle with up to
16% off until March 10th
. Customers who recently purchased the software (in the past 6 months) will receive the
upgrade for free
, and others can upgrade to the new version for a
small fee
. Demo versions can be downloaded on
www.bluecataudio.com
, in VST, RTAS, AAX, Audio Unit and DirectX formats (32 and 64-bit).
New Features:
- Instant and average crest factor measurement.
- Peak, RMS and crest factor histograms.
- Control the attack and release shape of the peak envelope.
- Surround support (up to 8 channels).
- Brand new fully customizable user interface:
-- New look and feel.
-- Show/hide what you need.
-- Fully customizable meters characteristics (range, headroom, color ranges).
-- Control the brightness of meters and graphs.
-- Meters and curves can now be frozen.
-- New colored statistics display.
-- Multiple display sizes.
-- Improved readability.
-- Animated transitions.
- New integrated presets manager:
-- Load/save presets from the plug-in's user interface.
-- Organize presets with folders.
-- Customize the default preset.
-- Exchange presets easily.
- Automation range and response curve can now be customized for each parameter (in and out).
- Automation and MIDI settings (channel, MIDI learn etc.) are now accessible from the main user interface.
- AAX plug-in format is now also supported on Windows (Pro Tools 10.2 required).
- Audio Suite support for the AAX version for offline levels measurements in Pro Tools.
Improvements:
- Increased levels range (120 dB).
- Increased maximum levels value range for overshoot measurement (up to +10dB).
- Peak average precision has been improved.
- Use hold values and crest factor for transformed envelope generation.
- Simplified transformed envelope generation.
- New presets to get started faster.
- Plug-in name has been shortened for a clearer display in mixer view for most host applications.
- The windows installer now automatically detects the most appropriate VST install path.
- License is now shared between plug-ins types (register only once for all formats).
- Improved value display in fine edit window.
- Improved parameters display on control surfaces.
Optimizations and Performance Improvements:
- Improved parameters precision (now stored as 64-bit).
- More compact presets format (uses less space and loads faster).
- Smaller binaries on Mac (dropped PowerPC support).
Bug Fixes:
- (RTAS) Fixed parameters control with EUCON control surfaces in Pro Tools.
- Fixed user interface issues in Final Cut Pro X.
- Fixed MIDI CC i/o issues with 64-bit VST.
- Fixed user interface display issues in Wavelab on Mac.
- Fixed keyboard stealing issue in Digital Performer 7 on Mac.
- AAX/RTAS on Mac: Fixed audio engine freeze or error issue with Pro Tools on some Mac configurations.
System requirements:
- Intel Mac running Mac OS X Moutain Lion (10.
, Lion (10.7), Snow Leopard (10.6), or Leopard (10.5).
- PC running Windows 8, Windows 7, Vista or XP.
Pricing:
Blue Cat's DP Meter Pro 4: 49 EUR or $66 (instead of 59 EUR or $79)
Upgrade from Blue Cat's DP Meter Pro 3: 11 EUR or $15
Blue Cat's Analysis Pack: 206 EUR or $269 (instead of 229 EUR or $299)