discoDSP Discovery Pro R5.3 is now available for Mac and Windows.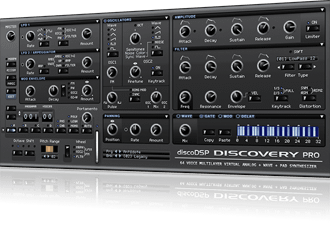 Discovery Pro is a 12 oscillators Virtual Analog VSTi, Audio Units and RTAS Synthesizer featuring 4 layers, WAV and SoundFont (SF2) support, PADsynth resynthesis, 2X oversampling/undersampling, built-in arpeggiator, sync, FM, 12 filter types, panning modulation, stereo delay and gate effects, graphic envelope modulation. It also Imports and Exports Nord Lead 2 SysEx data.
What's new
Faster Sine Wave VA oscillator.
Aftertouch support. Use EDIT > Switch > Aftertouch mode or Shift + Click ABCD button to set up.
MIDI CC Switch to edit Layers A-D. Use CC #63.
EDIT > Help > Open HTML Manual.
EDIT > File > Open Presets Folder.
Settings saved using XML.
Drop down preset zone menus are alphabetically sorted now.
Wave OSC tabs changed to WAVE GATE MOD DELAY.
Bigger click area for Wave tabs.
Optimized Program and Bank LCD names display.
More Zone presets for Delay, Gate, Mod Gate, LFO1, LFO2.
Bugfixes.
Discovery Pro now costs 99 € / 125 $ / 79 £ / 10.500 ¥ until August 31st 2010.
Starting September 1st will go back to 149 € / 199 $ / 129 £ / 18.500 ¥.
All previous Discovery Pro R5 users can get this update for free by logging at discoDSP Support page > Members Area. Updates from R4 or previous versions now cost 29 EUR.
More information and demos at
http://www.discodsp.com/discoverypro/
Best regards,
George Reales