Sounds And Effects Ukulele new product release and intro sale.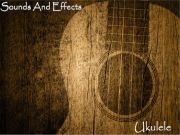 The Sounds And Effects Ukulele for Kontakt or Reason has been created using the highest quality equipment at 24/48, and contains 1181 multi-velocity samples of two ukuleles (1.17G), a picked tenor uke and a fingerstyle concerto ukulele.
Coming soon for Ableton Simpler/Sampler and Logic Pro EXS24.
Introductory sale until the end of November at $10 off, normally $59.95, now $49.95.
https://www.soundsandeffects.com/index. ... oductId=81